AUGUST 16, 2018
THE PERFECT WAVE: Chapter Two - Camp Covington is now out for all podcast apps
Storyboard App subscribers can get next week's episode too in their app today
Greenies and College Football fans, the Perfect Wave is back with Chapter Two: Camp Covington, now available on all podcast apps.
You can stream here from your browser:
Or, you can become a subscriber on your favorite podcast app by searching "Fear the Wavecast." You can find us in the Apple Podcasts app, Google Play, or anywhere else.
In this episode, which features interviews with Coach Tommy Bowden, Rich Rodriguez, Shaun King, and many more, the team heads to Covington to prepare for the 1998 season. With the emergence of stars like King in 1997, the team embraced the rising expectations while players fought for their jobs.
Become a Storyboard Power Listener
Remember, the Perfect Wave is the first show on the Storyboard Podcasts app (available on iPhone). For $2.99, Power Listeners get all access, including next week's episode, "There was Bad Blood with Southern Miss," available today.
To become a power listener, search for "Storyboard Podcasts" in the app store. You will get all episodes a week early, a couple of bonus episodes, and a FTW sticker as a thank you for your support.
AUGUST 10, 2018
"The Perfect Wave - Chapter 2," from our 1998 Tulane Football Documentary, is out.
Storyboard App Subscribers can get the episode today. Arrives next week for all other apps.
Greenies and College Football fans. I'm excited to say that Chapter Two of our six-part audio documentary "The Perfect Wave" is officially out on our Storyboard Podcasts app.
If you are a premium subscriber, you can download the episode from your feed starting tonight!
This 29-minute episode looks at the team as they take the Causeway and arrive in Covington, coming off a 7-4 season that represented progress but left players with a chip on their shoulder when they did not reach bowl season.
We figure out what kind of expectations the team fostered in that camp, as well as how they came together and laid the foundation for the season to come in Chapter Two: Covington.
More Updates for Power Listeners on Storyboard
If you are already subscribing on Storyboard, an app in the Apple store, these notes are for you.
Tonight's episode -- which comes a week early -- is your first bonus perk for becoming an All Access supporter. When we tried this model to support the show, we didn't know if it would work or anyone would be interested.
Let me say how much I appreciate the response and how it will make the show better as we continue working to tell this story.
As a token of our appreciation, we are sending a Fear the Wave sticker to every premium subscriber for their help in making this project a reality.
Not a Subscriber Yet?
If you are not a supporter yet and want to be, here's the deal. The All Access subscribers who download the Storyboard Podcasts app will get all episodes a week early, receive at least two bonus episodes only for the Storyboard supporters, and get the sticker from above -- support costs $2.99 for four weeks of access, and you can shut it off at any time.
Also, since I built the app, I want to note if you have any feedback or run into any issues, please shoot me a DM @FearTheWaveBlog on Twitter and find me by email (JP @ fearthewave dot com).
If you are not an iPhone user or this isn't for you, the six major episodes will be posted publicly, and you can listen to the first one here on Soundcloud or on the podcast app of your choosing.
I hope you enjoy the project, and Roll Wave!
MAY 07, 2018
Podcast Ain't Nobody talks about Auburn dropping $2M to play Tulane
The Wave heads to Auburn in 2019 for a single shot buy game
If you follow FTW on Twitter, you know that we are big fans of the Podcast Ain't Played Nobody show over at SB Nation, hosted by Bill Connelly and Steven Godfrey.
They not only do an excellent job across the board -- they cover the AAC as well or better than anyone else in College Football media.
While they were doing their latest epsiode, Brett McMurphy tweeted this about the 2019 Tulane @ Auburn game:
PAPN decided to discuss it, and I thought I'd transcribe their comments here.
PAPN:
SG: Auburn paid Tulane... ready for it. $1.9 million for a 2019 game. The question is: how many points will Tulane beat Auburn by in 2019.
Dang. What's going on? Is this a slow creep? Is it going to cap? This is crazy. $2M to play Tulane.
If you're Auburn, and this is a legit question, I know Auburn plays at LSU every other year, but why not go to Tulane, and let's do a 2-for-1? You come here twice, we'll work in a smaller fee, and we'll play in New Orleans. You're eventually going to recruit New Orleans. Tulane has a pretty nice stadium Uptown now. It's a mini-bowl. $2 million.
BC: I don't see the end game here, entirely. I get the general purpose. When we talk about how the Power Five will separate itself one day, and others point out they'll still need to win games to avoid going 4-8, this does remind you of the value of winnable home games on the schedule.
SG: Is Tulane a winnable home game?
BC: It's going to be harder in 2019, but Auburn will be a favorite. It's not a lock though.
I guess you could say this is the circle of life. The budget is now going to G5 teams who will use the money to pay FCS teams and it drops down.
Looking at the Buy Games
I'll embed the audio for the show below, but yeah, it does seem pretty crazy to see SEC teams pay this kind of money for their "buy games" nowadays.
In the immediate future, this seems to be an aspect of College Football that Troy Dannen intends to use to his advantage (see: Ohio State this season, Auburn next year).
The Buckeyes are getting the better deal, as they'll be paying a meager $1.5M to play the Green Wave this season.
But in all seriousness, it looks like we'll have one of these revenue-driving games in years when there is no marquee series game scheduled for the near future.
On the flip side, the programs who have opted for series with Tulane: Oklahoma (Game One played last year with one trip to NOLA), Ole Miss (3 game series, Rebs come to Yulman in 2023), and Kansas State (with a trip to NOLA in 2024).
Also, shout out to PAPN for acknowledging that the Fritz War Machine could be running and make things interesting for the Tigers, who I might I add have an all-time losing record against the mighty Wave:
The dream of getting paid $2M to continue that tradition is alive...
MARCH 08, 2018
AAC Tournament: Green Wave Preview
Green Wave looks to finish on a strong note after up-and-down season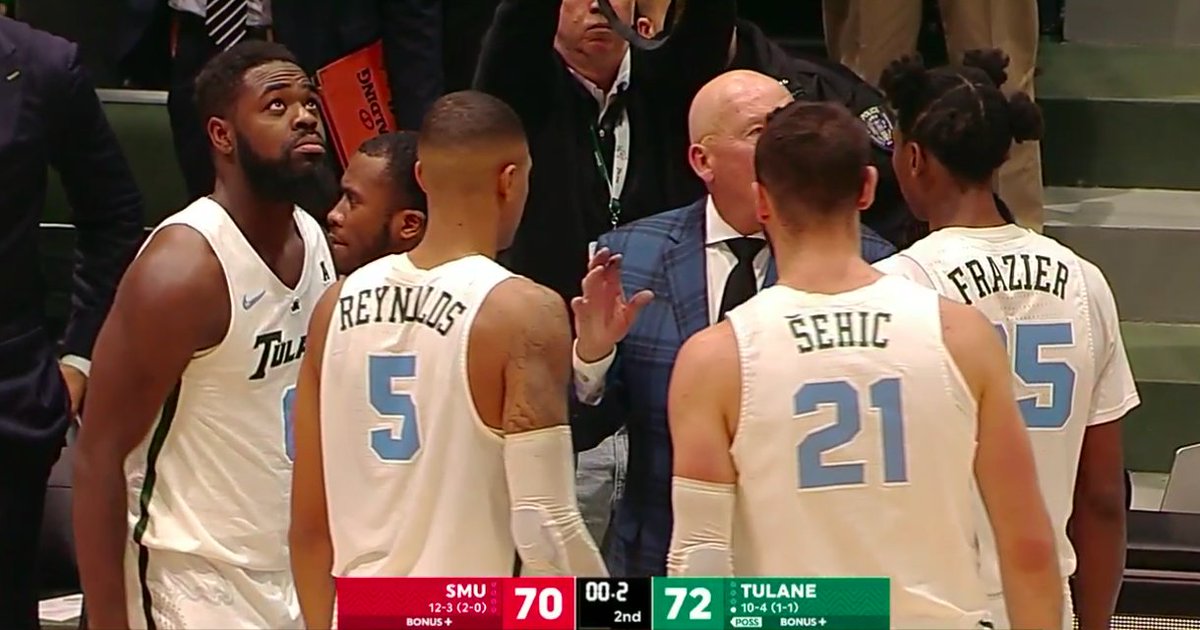 The 2018 Tulane Green Wave AAC Tournament campaign begins tonight at 6 PM against the Temple Owls in Orlando, Florida live on ESPNU.
I will say the odds of Tulane winning this tournament are slim; however, I refuse to rule it out. Just earlier this week, 8th-seeded Cleveland St. made it all the way to their conference championship in the Horizon. It is March. Anything can happen.
That being said, if the Green Wave are going to pull off this miracle they're going to have to take the tournament game-by-game and that all begins tonight against 7th-seeded Temple. What do the Green Wave need to do to win tonight?
Feed Melvin Frazier
Cam Reynolds is the only senior on Tulane's roster; but don't forget that this tournament (sadly) may be the last we see of Melvin Frazier in a Green Wave uniform as he has his eyes set on the NBA. Tulane went 1-1 against Temple this year in the two prior times they've met up.
In the game they won, Frazier scored 25 points on 9/13 shooting as well as having 7 assists. In the game the Green Wave lost to the Owls: Frazier played just 4 minutes before getting injured. Put the ball in Frazier's hands early and let the offense flow through him.
Let Points in the Paint Create Outside Shots
Recently, the Green Wave have struggled offensively with remaining disciplined and not just forcing up contested, low-percentage three point shots. There's a couple reasons for this. One is that I think the great success they had early season with the 3-point shot instilled a confidence within them to take those shots.
Having confidence to shoot threes isn't a bad thing, just not when they're not open. Another potential reason is that the Green Wave have struggled in dealing with zone defense. If the Green Wave want to not only beat Temple, but really put together a run in this tournament, they need to let driving to the hoop create open 3-point shots for themselves, not the other way around.
Close out the 3-Point Shot
On the other end of the floor, the Green Wave need to ensure that they are staying attentive and disciplined on perimeter defense. Over the past-few games there have been a few defensive lapses on that have led to easy 3-point shots for the opposing team. Tulane can not let that sort of play happen if they expect to make a run in Orlando.
Furthermore, applying this concept to the upcoming Temple game in specific: in the game that Tulane defeated Temple, Temple shot just 19% from behind the arc. In the game where Temple defeated Tulane, the Owls shot 48% from deep, nearly a 30% difference from the first matchup.
The Bottom-Line
Is a run in this tournament likely? Again, probably not but let's not rule it out. Furthermore this may be the last chance to watch two players who we can really be proud of to have as Green Wave alumni: Cam Reynolds, a member of the Green Wave 1000 point club, and Melvin Frazier, who is looking to be the first Green Wave NBA 1st round draft pick ever. There's a lot to be proud of with these two regardless of the result this week. That being said, let's go beat those Owls. Roll Wave.
FEBRUARY 07, 2018
#Fritzmas Tracker: Tulane closes out historic recruiting class
Wave signs three 3-star prospects on National Signing Day
After adding 22 signees during the first-ever early signing period in December, the Green Wave was focused on finding the last few pieces of its 2018 class.
Today, the Wave added three prospects, including two new signing day commitments. Here's the breakdown of what just happened.
DT Alfred Thomas
The Wave got off to a tremendous start when 3-star DT Alfred Thomas announced his signing:
Thomas ranked as the #19 prospect in Alabama, according to 247, as well the #47 DT in the country.
He had earned offers from many P5s, and the Wave held off a late run by conference rival Memphis for the prospect from Montgomery, AL.
LB Keitha Jones
Next up, recent commit Keitha Jones, who had previously committed to SMU, made it official by signing with the Wave.
This ATH from Port Arthur, TX hails from the same high school as incoming transfer running back Corey Dauphine.
Of note, while he played several positions in HS and was classified by the recruiting services as an athlete, he will project to play LB at Tulane.
LB La'Dedric Jackson
Finally, we expected one more signing today, and it came from La'Dedric Jackson also out of Montgomery, AL:
This 3-star prospect also attracted a lot of offers on the recruiting trail and ranks as the #30 Alabama recruit, according to 247.
A former Mizzou commit, Jackson will fill a need position on the D's depth chart as the second LB to sign in this class alongside Jones.
Big Picture
The dust certainly hasn't settled yet, but what is clear is that Coach Fritz and his staff have made an impressive step forward in the recruiting game.
When it's all said and done, the Wave's class will rank as one of the AAC's best for the first time ever.
As an early indicator as 247 hasn't been updated yet: their class calculator would place Tulane around #67 with the new additions. That would certainly be good for our best class during the recruiting rankings era, and I expect us to finish around there.
Of note, with the additions today, DC Jack Curtis will have a very promising core group to work with for his defensive front.
Merry Fritzmas to all. On to the offseason.