MARCH 08, 2018
AAC Tournament: Green Wave Preview
Green Wave looks to finish on a strong note after up-and-down season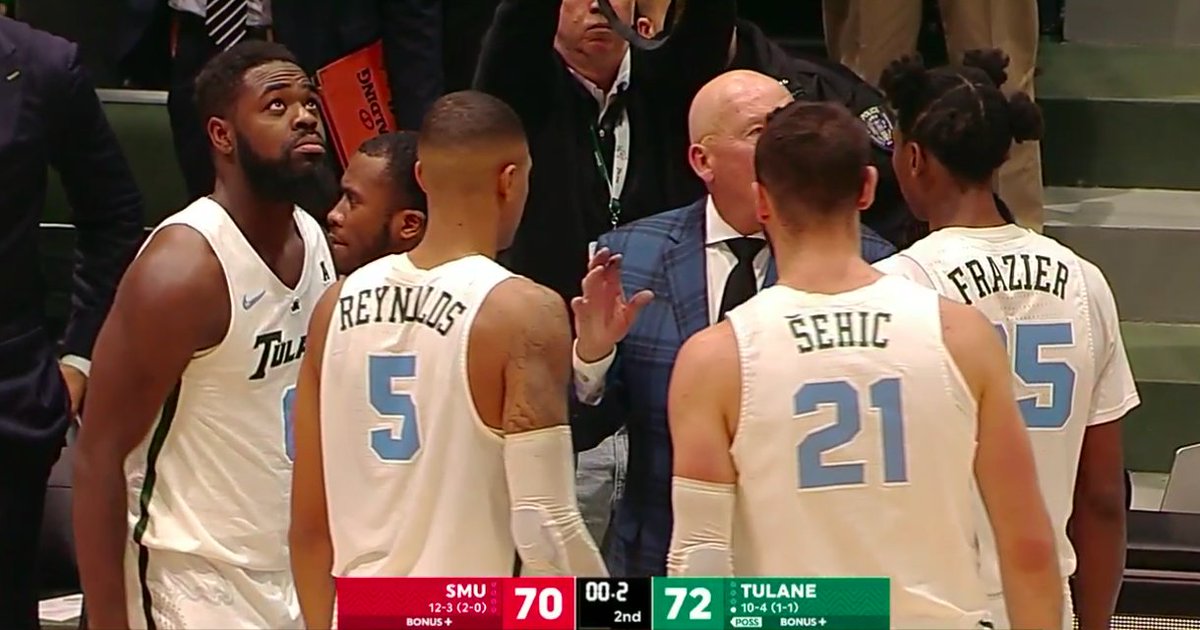 The 2018 Tulane Green Wave AAC Tournament campaign begins tonight at 6 PM against the Temple Owls in Orlando, Florida live on ESPNU.
I will say the odds of Tulane winning this tournament are slim; however, I refuse to rule it out. Just earlier this week, 8th-seeded Cleveland St. made it all the way to their conference championship in the Horizon. It is March. Anything can happen.
That being said, if the Green Wave are going to pull off this miracle they're going to have to take the tournament game-by-game and that all begins tonight against 7th-seeded Temple. What do the Green Wave need to do to win tonight?
Feed Melvin Frazier
Cam Reynolds is the only senior on Tulane's roster; but don't forget that this tournament (sadly) may be the last we see of Melvin Frazier in a Green Wave uniform as he has his eyes set on the NBA. Tulane went 1-1 against Temple this year in the two prior times they've met up.
In the game they won, Frazier scored 25 points on 9/13 shooting as well as having 7 assists. In the game the Green Wave lost to the Owls: Frazier played just 4 minutes before getting injured. Put the ball in Frazier's hands early and let the offense flow through him.
Let Points in the Paint Create Outside Shots
Recently, the Green Wave have struggled offensively with remaining disciplined and not just forcing up contested, low-percentage three point shots. There's a couple reasons for this. One is that I think the great success they had early season with the 3-point shot instilled a confidence within them to take those shots.
Having confidence to shoot threes isn't a bad thing, just not when they're not open. Another potential reason is that the Green Wave have struggled in dealing with zone defense. If the Green Wave want to not only beat Temple, but really put together a run in this tournament, they need to let driving to the hoop create open 3-point shots for themselves, not the other way around.
Close out the 3-Point Shot
On the other end of the floor, the Green Wave need to ensure that they are staying attentive and disciplined on perimeter defense. Over the past-few games there have been a few defensive lapses on that have led to easy 3-point shots for the opposing team. Tulane can not let that sort of play happen if they expect to make a run in Orlando.
Furthermore, applying this concept to the upcoming Temple game in specific: in the game that Tulane defeated Temple, Temple shot just 19% from behind the arc. In the game where Temple defeated Tulane, the Owls shot 48% from deep, nearly a 30% difference from the first matchup.
The Bottom-Line
Is a run in this tournament likely? Again, probably not but let's not rule it out. Furthermore this may be the last chance to watch two players who we can really be proud of to have as Green Wave alumni: Cam Reynolds, a member of the Green Wave 1000 point club, and Melvin Frazier, who is looking to be the first Green Wave NBA 1st round draft pick ever. There's a lot to be proud of with these two regardless of the result this week. That being said, let's go beat those Owls. Roll Wave.
FEBRUARY 07, 2018
#Fritzmas Tracker: Tulane closes out historic recruiting class
Wave signs three 3-star prospects on National Signing Day
After adding 22 signees during the first-ever early signing period in December, the Green Wave was focused on finding the last few pieces of its 2018 class.
Today, the Wave added three prospects, including two new signing day commitments. Here's the breakdown of what just happened.
DT Alfred Thomas
The Wave got off to a tremendous start when 3-star DT Alfred Thomas announced his signing:
Thomas ranked as the #19 prospect in Alabama, according to 247, as well the #47 DT in the country.
He had earned offers from many P5s, and the Wave held off a late run by conference rival Memphis for the prospect from Montgomery, AL.
LB Keitha Jones
Next up, recent commit Keitha Jones, who had previously committed to SMU, made it official by signing with the Wave.
This ATH from Port Arthur, TX hails from the same high school as incoming transfer running back Corey Dauphine.
Of note, while he played several positions in HS and was classified by the recruiting services as an athlete, he will project to play LB at Tulane.
LB La'Dedric Jackson
Finally, we expected one more signing today, and it came from La'Dedric Jackson also out of Montgomery, AL:
This 3-star prospect also attracted a lot of offers on the recruiting trail and ranks as the #30 Alabama recruit, according to 247.
A former Mizzou commit, Jackson will fill a need position on the D's depth chart as the second LB to sign in this class alongside Jones.
Big Picture
The dust certainly hasn't settled yet, but what is clear is that Coach Fritz and his staff have made an impressive step forward in the recruiting game.
When it's all said and done, the Wave's class will rank as one of the AAC's best for the first time ever.
As an early indicator as 247 hasn't been updated yet: their class calculator would place Tulane around #67 with the new additions. That would certainly be good for our best class during the recruiting rankings era, and I expect us to finish around there.
Of note, with the additions today, DC Jack Curtis will have a very promising core group to work with for his defensive front.
Merry Fritzmas to all. On to the offseason.
JANUARY 30, 2018
Fritzmas Tracker: Tulane Football Junior Day Report
2019 Recruiting Prospects visit the Green Wave
At the moment, Coach Fritz and his staff are not only closing out one of Tulane's best recruiting classes in history; they are also teeing up the 2019 class.
Over the past weekend, Tulane Football hosted its Junior Day, so here's a briefing on 2019 prospects who hold a Green Wave offer and made the trip.
I'll not that this list isn't all-inclusive, as Tulane saw a lot of additional talent come to Uptown to check out the program (including some intriguing 2020 names).
Editor's note -- sorry for the wait. Our site was down with technical issues over the weekend, as you may have seen.
Tulane Football Junior Day
Jacob Bernard - Lakeshore, LA | WR (Offer)
Greg Brooks - West Jefferson, LA | DB (Offer)
Ishmael Burdine - Slidell, LA | DB (Offer)
Bertrand Carrell - Madison Prep, LA | DB (Offer)
Donald Clay - Curtis, LA | DB (Offer)
Bryton Constantin - University Lab, LA | LB (Offer)
Dylan Rathcke - University Lab, LA | LB (Offer)
Mike Hollins University Lab, LA | RB (Offer)
Gerron Duhon - Sam Houston, LA | WR (Offer)
Jha'Quan Jackson - Hahnville, LA | ATH (Offer)
Chester Kimbraugh - Easton, LA | DB (Offer)
Lance Legendre - Easton, LA | QB (Offer)
Brandon Legendre - Ed White, LA | RB (Offer)
BJ Lockhart - Walker High, LA | DB (Offer)
Khi Matheiu - St. Aug, LA | WR (2020 - Offer)
Jarius Monroe - East St. John, LA | DB (Offer)
John Plumlee - Oak Grove, MS | QB (Offer)
Jaquelin Roy - University Lab, LA | DL (2020 Offer)
Quintin Torbor - Destrehan, LA | WR (Offer)
Tyrone Lewis - Hammond, LA | DB (Offer)
Travis Mumphrey - Ehret, LA | QB
Jamel Cooley - Carver, LA | LB
JANUARY 30, 2018
Fritzmas Tracker: Keitha Jones Flips from SMU to Tulane
Versatile Texas player adds a projected LB to Wave's Big Board
Last night on Twitter, Keitha Jones - a consensus 3-star according to 247 - announced that he would decommit from conference foe SMU and instead take his talents to Uptown.
Breakdown on Jones
Jones made a visit to Tulane this month, and he ultimately was swayed to join the Wave over the Mustangs.
We've been told that he projects as a linebacker, though other schools recruited Jones as a wide receiver or safety (and he played quarterback in high school).
Notably, he joins Tulane from his Memorial program in Port Athur, TX, where Texas Tech transfer Corey Dauphine also played his high school ball.
Jones became the 24th commitment (after 22 signees in December) for Tulane's 2018 recruiting class. That group currently ranks as the 4th best in the AAC and 71st in the country, according to 247.
Per tradition, this announcement has been Roll Wave'd by Coach Fritz.
Film
Here's Keitha working through WR drills at a Rivals camp last spring:
JANUARY 24, 2018
Tracking Tulane's NFL Prospects with NFL Draft Bible
NFL Draft Bible joins FTW to break down the NFLPA Bowl
Last week, CB Parry Nickerson and DE Ade Aruna were in Pasadena, CA for the NFLPA Bowl as they showcased their talent for NFL Scouts.
Rick Serritella, who has run NFLDraftBible.com since 2002, got a first hand look out west at both players' prospects for the next stage. Rick runs a great site, and you can find him on Twitter here too for scouting updates.
We're checking in with him to see how things went.
FTW: We were following your coverage of the NFLPA Bowl from Pasadena, so big thanks for all your work. Tulane had two seniors in attendance from our Defense: Ade Aruna and Parry Nickerson.
Overall, were those two prospects on your radar, and what did you expect from them coming in?
Rick, NFLDB: Coming into the NFLPA Collegiate Bowl, Parry Nickerson was one of the more underrated players based on his game film. His footwork and coverage abilities were that of a starting caliber cornerback, so it was to see that his skillset matched up when evaluating him in person.
While my study of Ade Aruna was not as in-depth leading into the all-star event, I was aware of his raw athleticism and size, he was viewed as a borderline draftable prospect.
FTW: You tweeted that Parry may be the best player on either roster coming into the week. What did you see out of him in California?
Rick, NFLDB: What we saw on film, was confirmed in practice throughout the week from Nickerson. He showed a smooth, fluid backpedal, great lateral movement going through cone drills and effortless change of direction.
When it came time to one-on-one drills, he proved more than capable covering the top wide outs in attendance and later showcased his ability to play effectively in a zone scheme during scrimmage action.
FTW: Aruna is really intriguing. For one, he's a tremendous athlete who has upside from starting football late in life.
On top of that, he had to do some things this year out of his natural fit to make up for personnel changes. How did his week go at showcasing his ability?
Rick, NFLDB: What scouts saw was an extremely athletic, lengthy player who oozes with potential.
The one term thrown around by scouts when discussing him was 'raw' but when you see him flash that burst on the edge, you see a lump of clay that NFL coaches are going to love to mold. He made himself some money during one-on-one trench warfare with quickness and active hands.
While he wasn't asked to get after the quarterback a lot this past year, he certainly possesses the skill-set to play end in a 4-3 scheme. His best football is ahead of him.
FTW: Do you have a sense of where you would mock Nickerson and Aruna today? Do you have a feel for any teams where there could be an interest and fit?
Rick, NFLDB: As soon as day three rolls around, Nickerson will be a huge value if selected in the mid-rounds, which is where he currently projects. If he doesn't get invited out to Indianapolis, it will be hard to boost his draft stock significantly more.
As for Aruna, he's also expected to have to wait until pro day to perform in front of NFL scouts. Based on the agility and movement that was on display in Pasadena, expect him to test very well and work himself into consideration as a late day three developmental pick—he just possesses too much size/speed too pass up.
FTW: Beyond those two, do you have any other Wave players on your radar as potential picks?
I've been surprised that Dontrell Hilliard has not gotten more attention yet as one of our most productive backs in history, reminiscent of Orleans Darkwa a couple years back. LB Rae Juan Marbley had an excellent senior year. Is anyone jumping out to you?
Rick, NFLDB: With such a deep running back class this year, a player like Hilliard will be overlooked, simply due to the fact that there are many backs available with his measureables and he isn't going to wow you in any one particular area. He does have the Green Wave running back lineage working in his favor, in addition to a highly productive career. He'll need to test well to ensure he gets a look as an undrafted free agent.
Rae Juan Marbley will be battling the 'undersized' label. One player worth noting would be Jarrod Franklin, with his starting experience, active hands and ability to make plays in the backfield, he is also an undrafted free agent candidate.