OCTOBER 20, 2017
Fritzmas Tracker: USF Visitor List
Recruits in attendance for battle with #13 USF at Yulman
Tomorrow, Tulane will host #13 South Florida on national TV at Yulman Stadium. Here's a roundup of recruits expected to be on hand:
Tulane Commits Visiting
1: Davon Wright - 3 star Tulane DT commit
2: Jamiran James - 3 star Tulane DT commit
3: Juan Monjarres - 3 star Tulane DE/LB commit
4: Carlos Hatcher - 3 star Tulane DE commit (coming from Texas)
5: Nik Hogan - 3 star Tulane DE commit (coming from Mississippi), #37 at position
Targets Visiting
6: Tahj Brown - 3 star Houston DE commit out of Donaldsonville
7: Tyrus Wheat - 3 star Missouri DB commit out of Amite
8: Jorien Vallien - 3 star uncommitted WR out of Alexandria, offers from Arizona State, CSU, La Tech, and more
Additionally, there will be a bunch of 2019 prospects:
9: Trey Palmer
10: Devonta Lee
11: Kyle Maxwell
12: Michael Hollins
13: Bryton Constantin
OCTOBER 19, 2017
Legend of the Harambelt: an Oral History
Tulane could make history in more ways than one on Saturday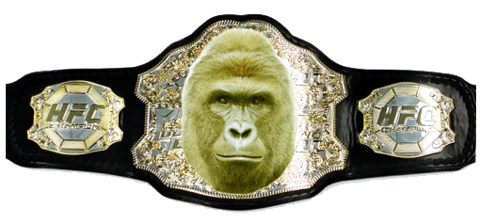 This Saturday, the #13 ranked South Florida Bulls will face off against the Tulane Green Wave at Yulman Stadium, live on ESPN 2. This game is crucial for the Green Wave for a number of reasons. Sure, Tulane has not beaten a ranked opponent since 1984, an upset Saturday would be huge for both the program and head coach Willie Fritz.
Why this game really matters though, ultimately boils down to a topic beyond the realm of football. I'm of course referring to the implications this game has on the status of the famed "Harambelt".
Harambelt: Remembering a Fallen Hero
"What is the Harambelt?", one might ask. It is a storied tradition beginning a little over a year and a half ago: May 8, 2016. Harambe, a 17-year-old Western Lowland Gorilla, residing in the Cincinnati Zoo and Botanical Garden, was just minding his own business.
Tragically, after an incident involving a child in the enclosure, Harambe passed away. This event made national headlines. Throughout social media around the world, people shared their grievances for the Gorilla, voicing their opinions on the injustice that had occurred to him.
People were outraged so much, that the Cincinnati Zoo had to suspend their Twitter account at some point, due to the harassment they were receiving. The rage carried on for several weeks; but, in the wake of the rage dying down, people began to share their sympathies for the Gorilla, offering up any sort of memorial they could so that Harambe's death would not be in vain.
Remembering Harambe Through College Football
This is where the Harambelt comes in. A "belt" in College Football is a metaphorical prize of sorts. If team A has a "belt" and then team B defeats them, then team B is now the owner of the belt.
The Harambelt is a belt created by @RedditCFB, specifically, reddit user /u/jayhawx19.
I got a chance to talk to /u/jayhawx19 and he told me that he decided that it would only be logical to start the belt out at the University of Cincinnati, since that is the city of Harambe's demise.
I also asked him what he thinks Harambe would think of the belt were he here today, he told me, "I think Harambe would be honored by the tradition...he is a part of college football history".
Tulane Can Honor Harambe
So how does Tulane play into this equation?
Well, as aforementioned, the Harambelt began at Cincinnati. Since then, Houston defeated Cincinnati, Navy beat Houston, and on October 28, 2016 USF defeated Navy to take control of the Harambelt. Now, almost a year later, USF is still in control of the Harambelt, they have not lost a game since acquiring the belt.
This means that when the Green Wave kickoff against USF saturday night, the Harambelt will be on the line. And the founder of the Harambelt himself thinks the Green Wave may have just what it takes to pull off the upset stating "Tulane has embraced the belt more than any other program I've seen… I think it's time for (the belt) to change hands. Tulane-38, USF-28."
So there you have it Greenies. Saturday's matchup is a huge one for multiple reasons: it is a ranked matchup, the first game with the Angry Wave monument atop the scoreboard, there will be Yulman Fest activities; but rising above all of those is the implications that the game will have on the Harambelt. It is indeed time for the Harambelt to exchange hands, and I think Tulane should be the ones to wield it.
OCTOBER 19, 2017
FTWCast Episode 20: #13 South Florida at Tulane Preview
Collin Sherwin of SB Nation's Daily Stampede Joins the Show
FTWCast is back this week, and Collin Sherwin of the Daily Stampede joins us to break down the #13 South Florida Bulls.
One of my favorite episodes this year -- USF has been interesting because they have simultaneously blown a lot of (not very good) teams out while not looking quite as impressive as you would think.
That said, they have a high powered offense, dominant defense, and they're looking to extend the nation's largest winning streak. Here's what we learned.
Listen on Soundcloud
Download to Your Podcast App
Find it on iTunes here. If you don't mind, give us a rating if you're a subscriber there.
And we're now on Overcast here as well as Google Play Music for you Android folks.
OCTOBER 14, 2017
Wave That Pick: AAC Picks for Week 7
JP Picks Some More Games
We are back this week with "Wave That Pick." Last week was looking good when Navy was rolling Air Force... before the Mids gave up 21 points in the 4th quarter, though they closed out a 48-45 win in the end. We'll get back after it this week.
How are we doing?
Last week, we went 2-2. Recap:
Winners: Tulane -4.5 vs. Tulsa, UCF -17 @ Cincy
Losers: Navy -7.5 vs. Air Force, SMU +6.5 vs. Houston
2017 RECORD: 9-6 (60%)
Picks for Week 7
1. Tulane @ FIU +13.5 | TULANE
This is going to be my pick of the century of the week. But seriously, I don't think the national crowd is on board with this team being able to put up numbers on offense, but they sure looked the part last week.
FIU's 3-2 record looks good, but their two FBS wins literally came against the #126 and #130 teams in College Football by a combined 7 points. Admittedly, their run defense looks good on paper (Bill Connelly ranks the Golden Panthers as #34 against the run), but they haven't faced an option team. I think the Green Wave rolls again.
2. Houston @ Tulsa +13.5 | HOUSTON
I saw enough of the Golden Hurricane last week. Houston seems to have settled their QB battle, and Tulsa will see even more pressure on offense when facing the Coogs' DL. Houston will take care of business on the road.
3. UConn @ Temple -10 | TEMPLE
As bad as Temple's offense had looked, it's pretty shocking to see the Owls as a double digit favorite against an FBS team. Yet here we are. You go UConn.
The Owls' offense isn't good, but they have done well defensively (held ECU and Houston to 10 points and 20 points respectively). UConn doesn't show up on defense, and Temple should be able to separate.
4. Navy @ Memphis -3.5 | NAVY
This is just a good game. I wanted to pick four, and I don't want to touch the two beatdowns involving Florida schools. So let's try this one. Memphis has depth issues from a variety of injuries, and that's a tough thing to deal with against a Mids' offense who will predictably control the ball for 40 minutes. Even if Riley Ferguson continues to get it done through the air, Navy will limit possessions enough to win a close one, I think.
OCTOBER 14, 2017
PREVIEW: Tulane @ FIU
Two 3-2 Teams Trending in Different Directions
After a huge win against Tulsa, the Wave is favored to win by 13.5 points in Miami against the FIU Golden Panthers.
With each passing week, it seems as if more people are beginning to respect what Willie Fritz has done with this Tulane team.
The debate kicked up this week after Jeff Duncan raised the question in the T-P: is Tulane the best football program in Louisiana?
It is important to note, however, that Tulane was also 3-2 last year and went on to lose six out of their last seven games. It will be on Fritz and the rest of the Greenies to stay focused on winning this week and not get caught up in the newfound attention or looking ahead to a huge matchup against #18 USF next week.
FIU Offense Report
The FIU offense can make plays when they need to, but aren't a spectacular unit, ranking 90th in the nation.
The main playmakers for FIU are QB Alex McGough and WR Thomas Owens. McGough is a competent passer, having already amassed over 1100 yards and a 61.2% completion percentage on the season so far. He isn't a running quarterback, but Butch Davis is not afraid of utilizing him in the read option.
In a 19-point comeback win against Charlotte, McGough had two rushing TD's both coming off the 49ers defense biting on the fake handoff to the running back. The most explosive player on the Panthers offense is definitely Thomas Owens, who averages 17.1 yards per catch.
Last week against Middle Tennessee State, he had 11 catches for 162 yards and a TD. Alex Gardner is the running back that gets his number called on the most, but he has only rushed for over 100 yards once this season.
FIU Defense Report
The FIU defense ranks 85th in the nation so Jonathan Banks and Co. should find success against them both on the ground and through the air. The Golden Panthers gave up 349 yards on the ground against Charlotte, and they allow 170 rushing yards per game.
If you can't stop the Wave's ground attack, you're in for a long day. They also ranked 123rd in the nation in forced turnovers, which is not good when you a play a team that almost never gives possession up.
In Review, Tulsa @ Tulane
The Green Wave offense put together a masterpiece against Tulsa last week. 62 points, over 650 yards of offense, and no turnovers. The Wave now rank top 10 in the nation in rushing offense, led by a stellar Dontrell Hilliard, who scored four times last week. Expect to see Hilliard and an explosive Sherman Badie find more success against FIU.
The Wave have a +7 turnover margin, again, one of the best marks in the nation. The only turnovers this year came against the Oklahoma Sooners. Only Alabama has turned the ball over less. Yes, you read that correctly.
Fritz must also be happy with the time of possession that Tulane enjoyed against Tulsa, with that being a staple of his scheme. The Wave held the ball for 43 minutes against the Golden Hurricane, almost 3 quarters worth of time.
Jonathan Banks has been very efficient at QB. He has a passer rating of 153.4 through 4 games (missed the OU game due to injury). He seems to have chosen Teddy Encalade as his favorite target, who has 15 catches on the year, more than twice as many as the next most frequent pass catcher.
Encalade caught a 62 yard TD against Tulsa, and the way that Banks just threw it up there for Encalade to win 1-on-1 shows just how much trust he has in him. Banks's ground game has also been exceptional, averaging 5.3 yards per carry. We should expect more of the same from Banks and Encalade against the Golden Panthers.
The Final Prediction
Expect to see FIU hang around during the 1st half, but the Wave should separate themselves in the 2nd half en route to a victory. Fritz's offensive scheme will be too much for FIU to handle, I predict a comfortable, 35-17 win for the Greenies.