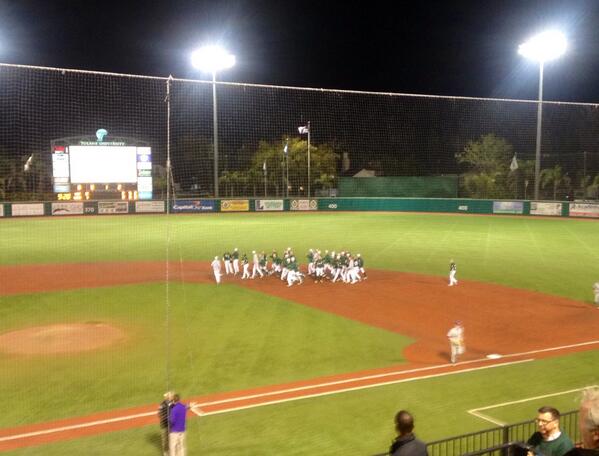 Credit: @katielentz on Twitter
Don't really know what else to put here. A strong effort on the mound allowed Tulane baseball to topple the #3 LSU Tigers 3-2 after 11 innings of baseball.
This is, without a doubt, the biggest upset that comes to mind since I started following the Green Wave. The LSU baseball powerhouse was unable to manufacture a run late in the game, the Wave ultimately capitalized with a two-out double followed by a game winning RBI by Richard Carthon.
That was the dagger, for sure. In a weird bit of cosmic irony though, it was former Tulane pitcher and LSU transfer Nate Fury who gave up the game winning run.
Kyle McKenzie, who entered the game as a closer, pitched four dominant, scoreless innings to keep the Green Wave's upset hopes alive. In the top of the 11th, he downed the final two batters on strikeouts to finish his outing.
This game was an absolute battle for the Green Wave. We didn't produce a single hit from the 4th until the 11th inning. However, the team stood strong, the pitching held up, and the Green Wave hung around long enough to pull out a momentous victory.
And for the first time since 2010, the Bayou Bengals will head back on I-10 without a win.
Carthon RBI single, Dirty, nasty, evil, lying, cheating, stinking Greenies beat LSU for 1st time since 2010, 3-2
— Pod Katt (@valleyshook) March 26, 2014
See you at the Box on April 22nd for round two.
Read More