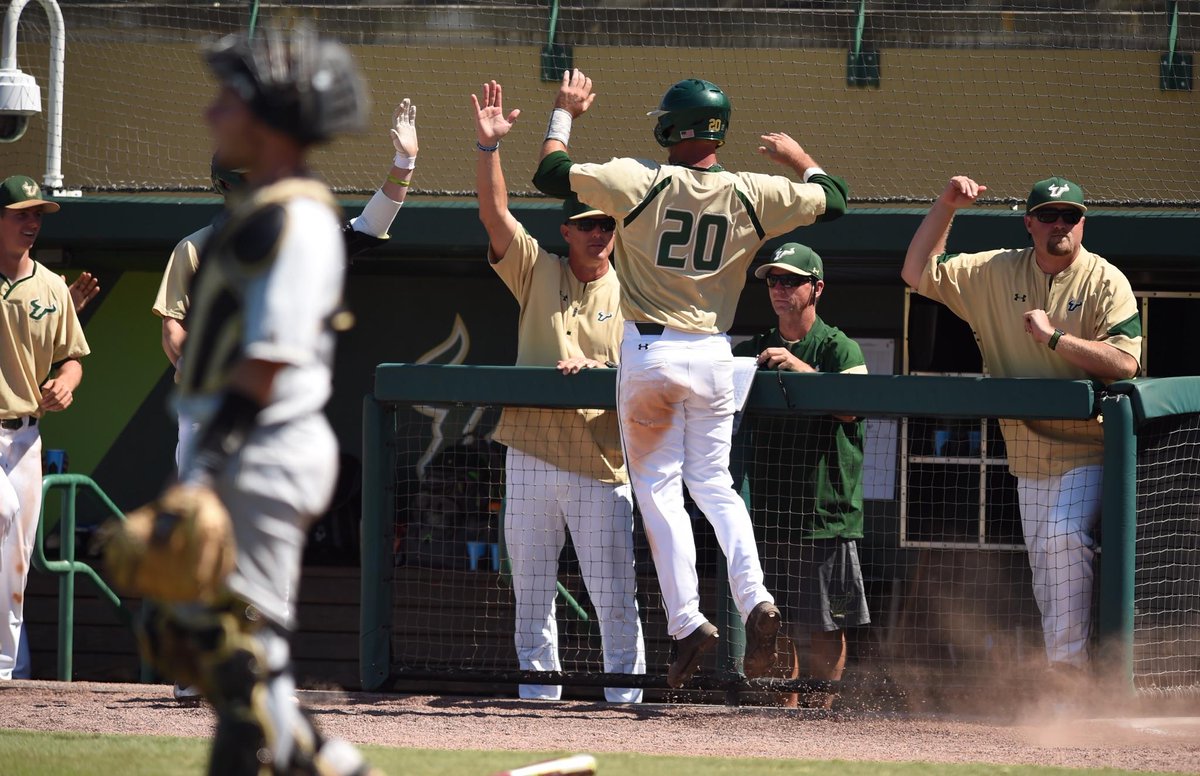 Week Two of AAC play is now in the books, so here are the updated conference Power Rankings.
8. Cincinnati Bearcats (2-4) [Last Week: 8]
A 10-run rule win over Tulane to stop the sweep was definitely a nice finish, but the Bearcats were knocked out of this series in the early innings of the first two games.
Cincy heads to USF next weekend for a very tough trip to a rebounding Bulls club.
7. Memphis Tigers (2-4) [Last Week: 7]
Pretty easy here. Memphis has a road series win over Cincy but showed this week that the Tigers are probably going to struggle against the top cut of the league.
The UConn Huskies smothered the Tigers' offense as they pulled off another sweep to start AAC play. Things won't get easier for Memphis with Houston and USF coming to town next.
6. East Carolina Pirates (0-6) [Last Week: 6]
Debated this one but I still think ECU will end up being better than Memphis and Cincy, despite their winless start. That said, this is officially a nightmare opening for Cliff Godwin's club that entered the year with a Top 10 ranking.
Against Houston -- a series that would help us gauge where ECU was -- the Pirates were dominated 17-3 and and 8-1 by the Coogs. On Sunday, ECU held their lead for most of the game only to get smoked by Houston's power hitting in the late innings.
The Pirates host UCF next weekend and desperately need a series win to show some (any?) life.
5. UCF Knights (2-4) [Last Week: 3]
The Knights had a very, very bad trip on I-4 to face arch-rival South Florida. This could have been a series win for UCF, but they could not hold leads against a Bulls club that seized the opportunity.
The good news is that UCF can make up some ground next week on the road against a reeling ECU.
4. Tulane Green Wave (4-2) [Last Week: 4]
I'm going to keep Tulane in place at 4th this week. They took care of business on the road with a series win over Cincinnati, highlighted by strong performances on Friday and Saturday.
In Game One, Green Wave starter Corey Merrill did not have his best stuff but Tulane turned in its best offensive performance of the season in a 16-8 victory. On Saturday, the rise of JP France continues as he threw another gem, showing again that he is hitting his stride at the right time.
Sunday though? A 10-run rule 7-inning game became the latest chapter in Tulane's struggles to close out the sweep (which now includes Sunday losses against WVU, USF, and Cincy).
With Tulane's bullpen depth, Sundays are always going to be a risk. If freshman Chase Solesky can find his midweek mojo and take the Wave deeper into these matchups, Tulane can start turning some good series into great ones.
Tulane is in a three-way tie for second with USF and Houston now, with a huge matchup at GFATS coming next week when leader UConn comes to town. Can't miss.
3. South Florida Bulls (4-2) [Last Week: 5]
As noted with UCF, the Bulls snatched victory from the jaws of defeat in all three games against their Orlando rival. More importantly, they did what they couldn't against Tulane on the road the previous week: do the small things to hold onto leads when it counts.
They are about to hit the easy stretch of their schedule with a home bout against Cincy and a road trip to Memphis. If USF can win 5 of those, the Bulls will be positioned very well for the conference race.
2. UConn Huskies (6-0) [Last Week: 2]
The Huskies are off to a hot start. The snow has (maybe) melted, and UConn took advantage of their first home series with a run of the mill sweep over Memphis.
That one was never in doubt. UConn is giving up just 2.1 runs per game in AAC play. Until someone starts hitting them, the Huskies are cruising.
Things get more interesting this weekend in a #2 vs. #1 battle in New Orleans.
1. Houston Cougars (4-2) [Last Week: 1]
After losing its opening weekend to UCF, the Coogs got it done at home in a big sweep over East Carolina.
They got the party started with 17-3 and 8-1 wins over the Pirates in game one and two.
On Sunday, they trailed ECU until the 6th, posted a 4-run frame, and never looked back. Houston moves into the logjam for 2nd place but has a road trip to Memphis this upcoming weekend.
A sweep would position Houston nicely for the conference race before closing with Tulane, @USF, UConn, @ Tulane.