After that 3-12 start to the season, I am not sure how many folks could have predicted how epic this week of baseball would be for Tulane.
The Green Wave stands at 7-2 in league play after their crucial home sweep of UConn -- a game ahead of those same Huskies in the standings and with Houston on the horizon this weekend.
On top of that, Tulane has been one of the country's fastest RPI risers as the Green Wave elevated from the 250s just a few weeks ago to #92 tonight on Warren Nolan.
So facing ULL (RPI #70) on Tuesday and Southern Miss (#30) on Wednesday... this would be a huge week already.
Throw in a road trip to the league's most respected team this weekend (and three shots at a #15 team in RPI to boot) that could chart the course for a conference championship. Oh, and let's not forget, Tulane welcomes to the school upriver on Tuesday night with another season sweep for the Wave on the line.
Like I said, this is epic. This is definitely the biggest stretch of Tulane Baseball we have seen in 2017. There is big time risk, but there is even bigger opportunity, as the Wave can turn the turnaround effort up to 11. Let's break it down.
What It Means
With Tulane's RPI position, every single game matters. This isn't a common place to be in where your midweek games can take on this much significance, but it seems clear that Coach Jewett is prepared to attack every game in this stretch.
On the Coach's Show today with Graff, Jewett mentioned that he would throw Ross Massey on Tuesday, Sam Bjorngjeld on Wednesday, and then follow with the regulars in Corey Merrill and JP France to start the weekend.
He notably kept quiet on the plan for Sunday, saying it all depends on how these early games go this week.
Herein lies one of the big hurdles of this stretch. Tulane will face perhaps the biggest boogeyman that tanked the early part of the season and has been at bay, as of late: getting sufficient work out of the starters to keep a thin bullpen stable.
Here are some notes, game-by-game.
ULL: Home
The Cajuns have not panned out as early polls expected, but they are still a top 100 RPI team that will be hungry for a road win against an in-state rival.
Tulane captured the front-end of the series in Lafayette, and a season sweep here would be a great touch.
To add to the drama, Freshman All-American Ross Massey will reboot his sophomore season at GFATS.
Coach Jewett has not said how far he hopes to take Massey, but this could be a big development for the Wave. Massey showed remarkable talent last year in his 10-win season and arguably should have been AAC Rookie of the Year.
If he can re-establish his confidence and control, Massey could fill a crucial gap to take his club to another level. That may take some time, but a solid, confidence-building performance Tuesday night would be a great first step there.
6:30 at GFATS on Tuesday. Get loud.
Southern Miss: Home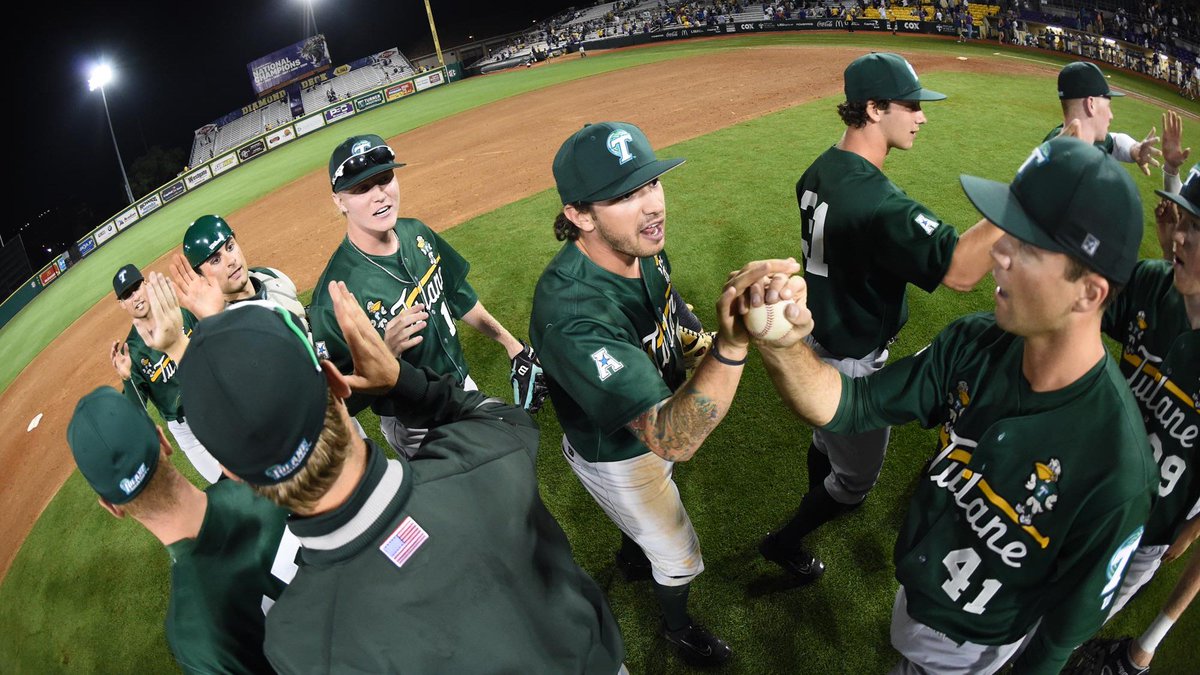 This is a chance to split the season series with a club that has been outstanding. Tulane, in the midst of the early season stumble, dropped this game in the 9th inning 2-1. Revenge would be sweet here.
The Mustard Buzzards come in with a #30 RPI and lead Conference USA by a game. They lost their last two midweek games, both to Ole Miss, and will also play a Tuesday game this week (in USM's case, it's against Nicholls State in Biloxi).
Our last game was a battle to the end, but the USM offense can explode as they are coming off 4 games with 13 or more runs in their last 9. They have successfully teed off on some teams, as they did to clinch a series with Rice last weekend.
On the mound, we'll start Bjorngjeld, as Guerry mentions. Jewett spoke highly of his outstanding night against UConn on Thursday, which makes the Texas pitcher a more versatile option for the Green Wave.
Houston: Away Battle for AAC Lead
The home stand will break when Tulane heads west on I-10 for a bout with the Cougars. While Houston stands a game back in the league standings, they have been very productive and picked up respect along the way as they earned a #24 ranking this week from Baseball America.
As you may have heard, the Coogs suffered a blow when ace Seth Romero was suspended from the team and school. He's suspended indefinitely, and they don't expect him to be back for this weekend.
Nonetheless, the Coogs still have a tremendous arm in Trey Cumbie. He boasts a 6-0 record built on a 1.40 ERA, and he regularly goes deep in games (most recently lasting eight in a Friday night win over the Memphis Tigers).
Behind Cumbie though, Mitch Ullon took over the Saturday duties. Last week, Memphis tagged him for 7 earned runs before he exited after 3.2 IP.
On Sunday, John King should take over. He's been solid with opponents hitting .252 off of him with a 3.46 ERA.
So the Coogs will boast some solid pitching, but it's at the plate that they have really made impact this year, like Tulane.
A few names to know:
Jake Scheiner is hitting a monstrous .402 and slugging .788. Those are real numbers. His 12 homeruns to date are more than double that of his nearest teammate.

Joe Davis has slowed down a bit it seems from his pace last year, but he's turning in a .302 BA. I say that because his 5 HR to date put him behind his 14 from last year's campaign, but Davis can do some damage.

Catcher Connor Wong is a Top 100 MLB Draft prospect for Baseball America, and his .302 BA puts him about on pace with last year's numbers.
In short, my expectation that this will be a battle between two talented clubs that boast some serious firepower at the plate. Houston hasn't always been a great town for us, but with a conference title captured there on a weather-threatened Sunday last season, we can hope that the mojo rolls on.
By the way, if you're making the trip or live in town, looks like the Tulane Club will be hosting a Crawfish Boil too.
LSU: Back Home on Tuesday
And if that stretch isn't enough for you, Tulane returns to GFATS on Tuesday with a chance to sweep the school upriver for a second straight year.
Graff said today on his radio show that this is (expectedly) selling fast, so get on it.
I will do a more extensive preview later since we have a lot of baseball to get to this point, but just wanted to highlight how many significant battles Tulane will have the opportunity to take from this Tuesday to the next Tuesday.
Are you not entertained? Roll Wave.