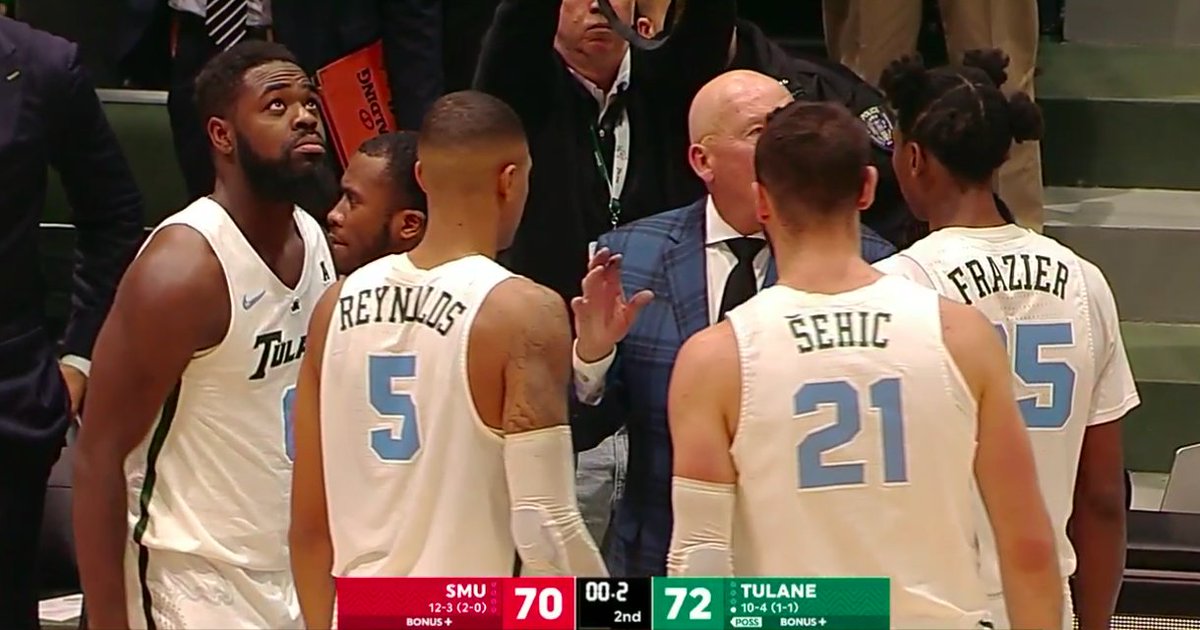 The 2018 Tulane Green Wave AAC Tournament campaign begins tonight at 6 PM against the Temple Owls in Orlando, Florida live on ESPNU.
I will say the odds of Tulane winning this tournament are slim; however, I refuse to rule it out. Just earlier this week, 8th-seeded Cleveland St. made it all the way to their conference championship in the Horizon. It is March. Anything can happen.
That being said, if the Green Wave are going to pull off this miracle they're going to have to take the tournament game-by-game and that all begins tonight against 7th-seeded Temple. What do the Green Wave need to do to win tonight?
Feed Melvin Frazier
Cam Reynolds is the only senior on Tulane's roster; but don't forget that this tournament (sadly) may be the last we see of Melvin Frazier in a Green Wave uniform as he has his eyes set on the NBA. Tulane went 1-1 against Temple this year in the two prior times they've met up.
In the game they won, Frazier scored 25 points on 9/13 shooting as well as having 7 assists. In the game the Green Wave lost to the Owls: Frazier played just 4 minutes before getting injured. Put the ball in Frazier's hands early and let the offense flow through him.
Let Points in the Paint Create Outside Shots
Recently, the Green Wave have struggled offensively with remaining disciplined and not just forcing up contested, low-percentage three point shots. There's a couple reasons for this. One is that I think the great success they had early season with the 3-point shot instilled a confidence within them to take those shots.
Having confidence to shoot threes isn't a bad thing, just not when they're not open. Another potential reason is that the Green Wave have struggled in dealing with zone defense. If the Green Wave want to not only beat Temple, but really put together a run in this tournament, they need to let driving to the hoop create open 3-point shots for themselves, not the other way around.
Close out the 3-Point Shot
On the other end of the floor, the Green Wave need to ensure that they are staying attentive and disciplined on perimeter defense. Over the past-few games there have been a few defensive lapses on that have led to easy 3-point shots for the opposing team. Tulane can not let that sort of play happen if they expect to make a run in Orlando.
Furthermore, applying this concept to the upcoming Temple game in specific: in the game that Tulane defeated Temple, Temple shot just 19% from behind the arc. In the game where Temple defeated Tulane, the Owls shot 48% from deep, nearly a 30% difference from the first matchup.
The Bottom-Line
Is a run in this tournament likely? Again, probably not but let's not rule it out. Furthermore this may be the last chance to watch two players who we can really be proud of to have as Green Wave alumni: Cam Reynolds, a member of the Green Wave 1000 point club, and Melvin Frazier, who is looking to be the first Green Wave NBA 1st round draft pick ever. There's a lot to be proud of with these two regardless of the result this week. That being said, let's go beat those Owls. Roll Wave.